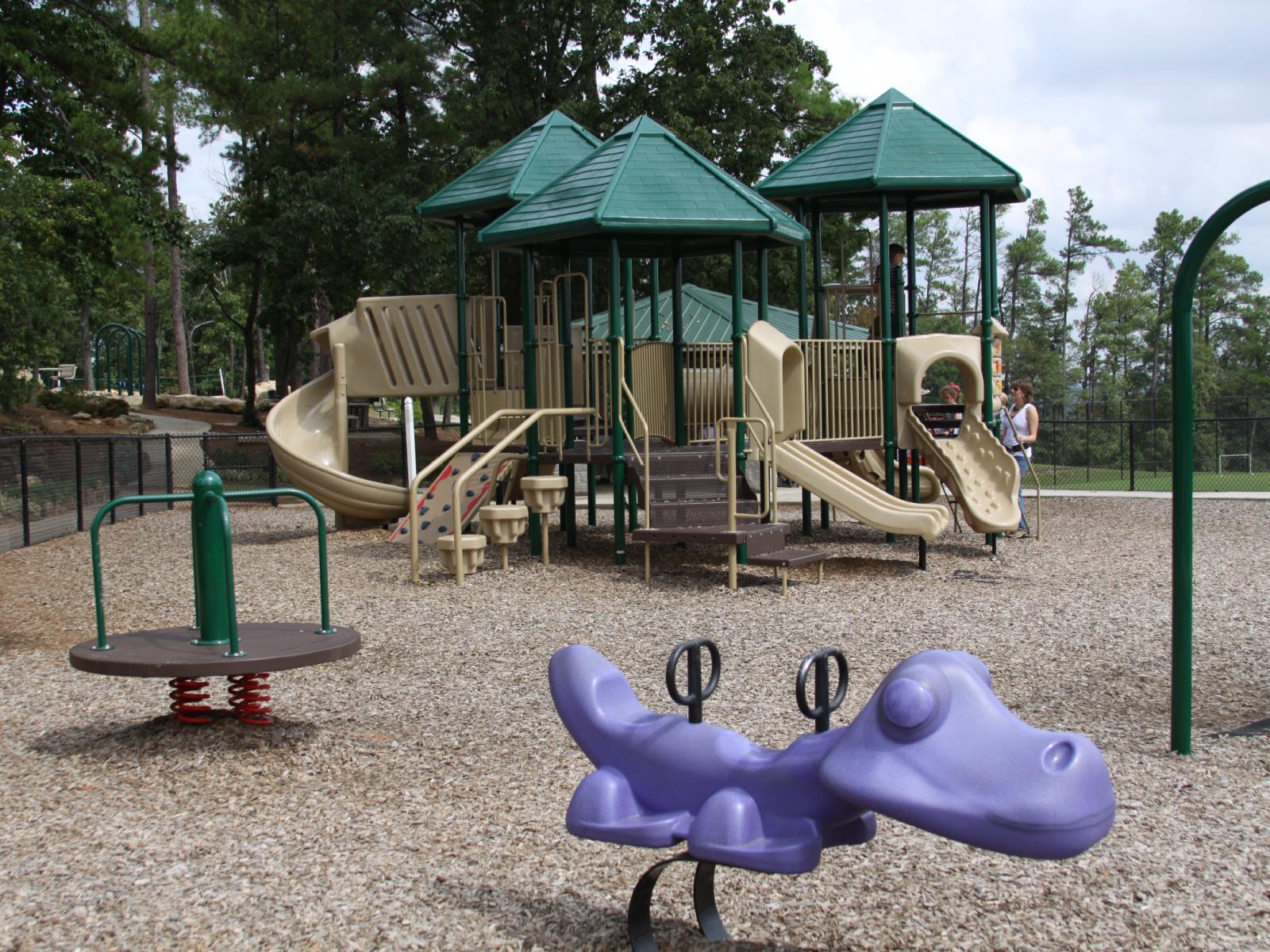 An accessible playground allows all visitors to play with ease. The most inclusive playgrounds are accessible to people of different ages, backgrounds, and abilities. When it comes to designing an accessible playground, Universal Design (also known as Design-for-All, Lifespace Design, and Inclusive Design) is an essential concept that must be kept at the forefront of the decision making process. It's a framework that covers how locations, equipment, and information can be accessed and utilized by a wide variety of people.
Accessible vs Inclusive Playgrounds
"Accessible" refers to something that can be reached or entered without challenge. Accessible playgrounds are open to any and every child. For example, visitors in wheelchairs can maneuver between the playground equipment and structures, accessing all features of the park without an issue.
"Inclusion" means ensuring people feel both engaged and connected. It creates a sense of belonging and harmony for all those involved. Inclusive playgrounds allow people of all backgrounds and abilities to play together without limitations. They enrich play for children by promoting a variety of physical, visual, hearing, cognitive and learning experiences.
While all inclusive playgrounds are accessible, it's important to note that not all accessible playgrounds can be considered inclusive. The ADA publishes accessibility requirements, but the best playgrounds go above and beyond these standards to achieve true inclusivity, so everyone in the park can have a rewarding experience.
Why Are Accessibility And Inclusion Important For Parks And Playgrounds?
People of all ages deserve to have access to safe, fun spaces where they can immerse themselves in play. Children especially benefit from playing outdoors; they gain social skills, confidence, and develop stronger physical coordination. And interacting with people of all backgrounds and abilities fosters generosity, understanding, and empathy at an early age. Learning to work with one another despite differences prepares children for the diverse world they will take part in as adults.
Parents and grandparents also benefit from inclusive playgrounds. Caregivers with mobility issues or declining health will not be hindered when playing with their loved ones. Higher levels of accessibility encourages cross-generational play and strengthens family bonds.
Accessible Playground Design
Ground Routes
One of the most important aspects to consider when building an accessible space is how visitors will maneuver within the playground. There are two main types of accessible routes: ground and elevated. Accessible ground routes are pathways designed to provide access for individuals with disabilities, including those with wheelchairs or mobility devices. These routes connect all entry and exit points of the accessible play components in the playground.
Ground surfaces must be present alongside the routes that include clear floor space and room to maneuver, with additional circulation space around high use play components. For ground spaces in the "use zone" surfaces must be impact attenuating and meet ASTM F 1292-04 Standards. Recycled rubber, engineered wood fiber, etc. will be safer options in the areas where children are most likely to fall.
Elevated Routes
An elevated accessible route is a path used to link elevated play components. Elevated accessible routes need to connect more than 50% of the elevated play structure and use handrails with adequate clearance. The most common elevated route solutions are ramps and transfer systems, with ramps being the preferred method because transfer systems may not be popular with or usable by all children.
Transfer Systems
Transfer systems are platforms that children can use to lift themselves on to elevated play structures while leaving their mobility device on the ground. Transfer platforms require clear floor or ground space for parking the mobility device and supports are also required at each level where transferring is the method of access as they aid with general mobility. Examples of supports are handrails and handgrips. While transfer platforms and steps are not a requirement, they add an extra level of usability for children with disabilities.
Inclusive Musical Playground Features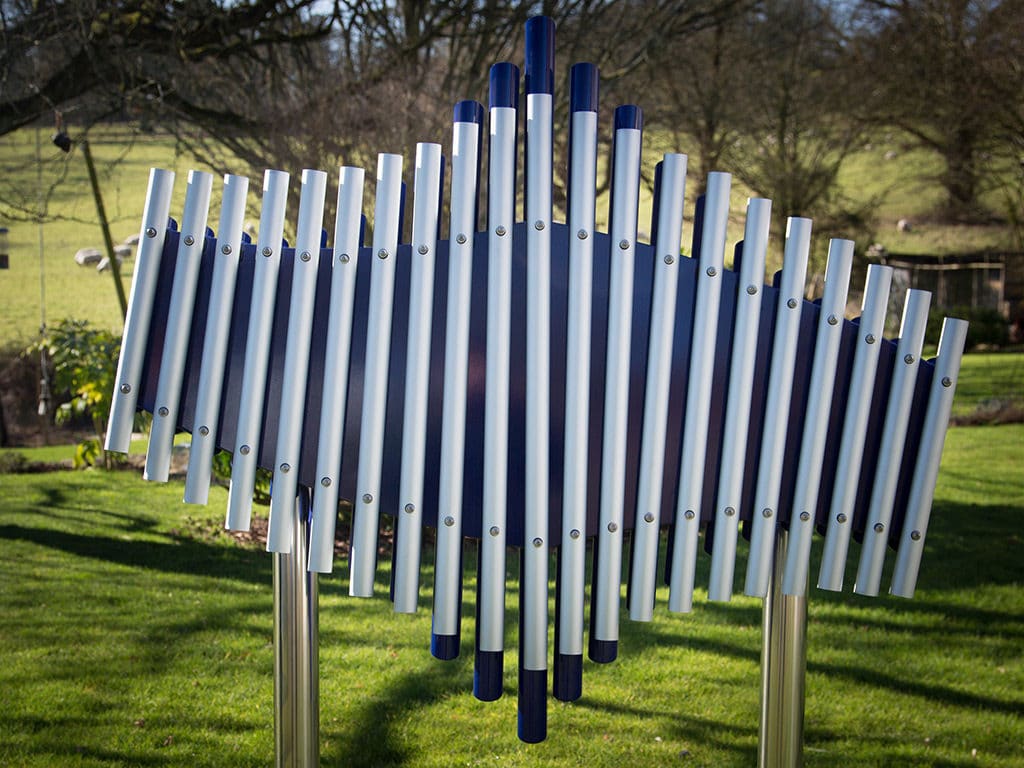 Musical features are an innovative way to enhance inclusivity in any space. Music is known as the universal language, so it's no surprise that instruments that encourage musical exploration would find a home in inclusive parks and playgrounds. Music adds a unique level of harmony, soul, and energy to any environment. By providing a space where children and adults alike can indulge in sounds of their own creation as a group, your park will be a go to space for accessible family fun.
Additional Features To Consider
Other accessibility requirements include entry points and seats and play tables. Entry points and seats are the parts of the play components that can be used to transfer, sit or gain access. Play tables are surfaces that were created with play in mind and can be built on ground or elevated levels.
—
Universal Design has a "people first" perspective, focusing on the experience of each visitor. As a result, it increases inclusivity by ensuring playground designs offer solutions and activities for a wide range of circumstances. Instead of sectioning off different areas in a park – isolating visitors with disabilities or impairments – the goal is to make as many elements as accessible as possible so that people feel included.  
More requirements and ideas for accessibility and inclusivity can be found in the ADA's play guide.